Services
GEZE Services
At GEZE, our goal is your long-term satisfaction, and we want our products to meet your needs in a reliable and trouble-free way. That's why our emphasis is on comprehensive advice and services so highly – throughout the entire project cycle. You'll find a list of many of our services below.
COMFORT SERVICE CONTRACT
GEZE Service
By choosing GEZE you are assured of quality and safety. And our involvement does not stop after delivery of our applications. With our service department we offer the possibility to keep your application in optimal condition. So that reliable and safe operation of your window and door systems remains guaranteed in the future.
View the benefits of a comfort service contract below:
| | | |
| --- | --- | --- |
| ADVANTAGES SERVICE CONTRACT | WITHOUT CONTRACT | WITH CONTRACT |
| Preventive maintenance according to checklist maintenance book | x | ✓ |
| Security analyses EN 16005 after annual maintenance | x | ✓ |
| Preventive annual maintenance checks | x | ✓ |
| Discount on spare parts | x | 10% |
| Discount on hourly rates and call-out charges | x | 10% |
| Priority when reporting a fault | x | ✓ |
| Support by telephone out of office hours | x | ✓ |
| Response time faults within 24 hours | x | ✓ |
Haven't found what you need? 
Perhaps you have completely different requirements and are looking for the right solution approach?
No problem! We can help you to develop a service concept tailored to your individual needs at any time. Just get in touch! We look forward to meeting your needs - precisely and cost-effectively.
Get in touch
Report malfunction
Need a service technician?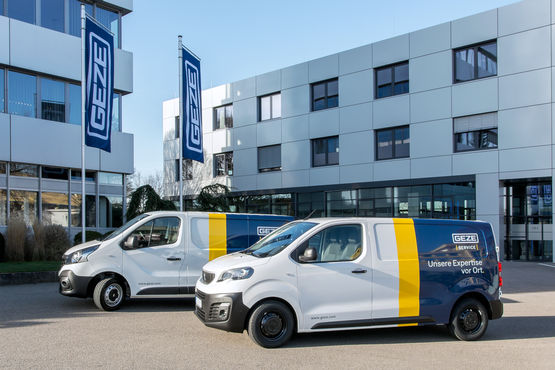 © GEZE GmbH
Our specialists are ready to help you! Our service department is available 24 hours a day. Please contact our service department on +31-40-262-90-46
If you do not have a service contract, we will ask you for additional information. You can submit your additional information via the service form. As soon as we have received your request, we will contact you within one working day.
Looking for spare parts?
We stock a full range of original replacements parts, including for older systems. We offer competent consultancy and quickly available parts which we can get to you the next day if necessary.
Please contact us via phone +31-40-262-90-46 or e-mail:
Training
More expertise with GEZE training sessions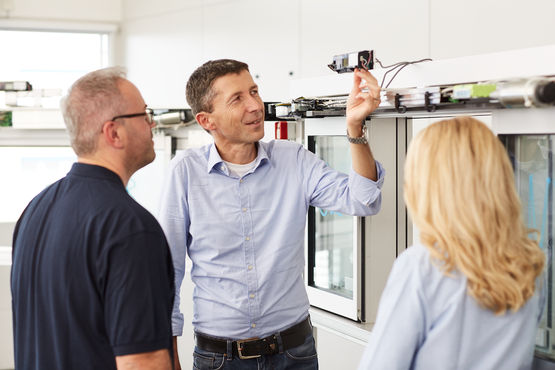 Photo shoot of employees for external and internal communication as the face of the company. © Karin Fiedler / GEZE GmbH
Our training centre offers a comprehensive qualification programme for GEZE products. Our training and seminars programme enables you to obtain certificates of competence for commissioning GEZE products, and complete seminars on standards and directives. Stay up to date! In addition to our product training sessions, which are primarily designed to appeal to installation companies, we also offer separate events for architects and planners. Participants learn about topics such as door automation, door technology and safety technology, and together develop solutions for complex door standards.
We would be happy to prepare a customised training programme for you.
Individual training courses
We would also be glad to create individualised training courses for you, which may even take place outside of the GEZE training centre. Send us an e-mail or give us a call at +31-40-262-90-80.
Tools & aids
Tools and aids for planning and installing GEZE products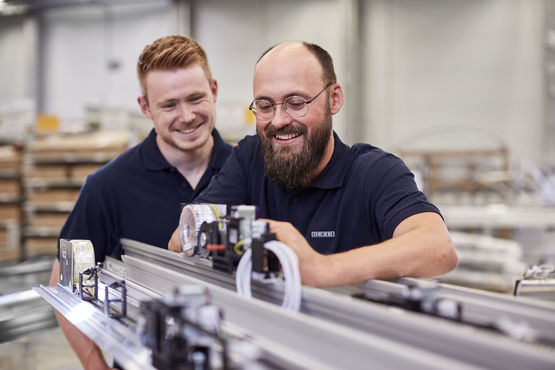 In addition to personal advice, we can support you with a variety of apps and tools, which you can use in your everyday work to plan, install, and maintain building management systems: for example in configuring the Powerturn, calculating the system design of windows, or planning and configuring a variety of doors. Our GEZE YouTube channel also provides lots of helpful videos on installing GEZE products.
Glossary
The GEZE glossary of technical terms explains key terms related to door, window and safety technology from "A" for activation devices to "V" for ventilation.
GO TO THE GLOSSARY
Modification & modernisation
From consultation to installation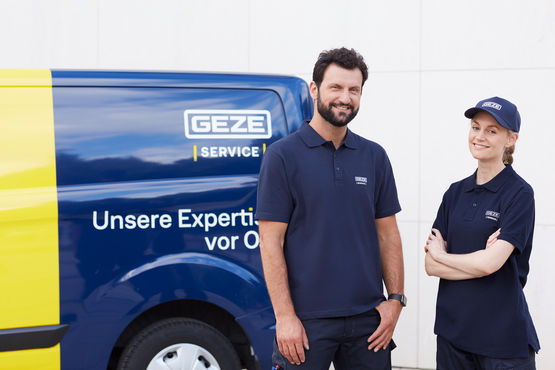 © Karin Fiedler / GEZE GmbH
Generally speaking, the expected lifetime and useful life of building technology has always been shorter than that of the building itself. But new standards and legislation are changing expectations, especially with regard to building safety.
GEZE supports you in modifying outdated equipment to improve the utility and safety of your systems. Modernisations bring the products up to the latest technical standards. In addition, key functional parts can be retrofitted to improve operating properties. GEZE offers forward-thinking product solutions and long-term expertise.
Information on our company, products, and services
You will find extensive materials in our download area. Further product information is available from the GEZE customer portal. If you need additional information, please don't hesitate to contact us personally.
Comprehensive and user-friendly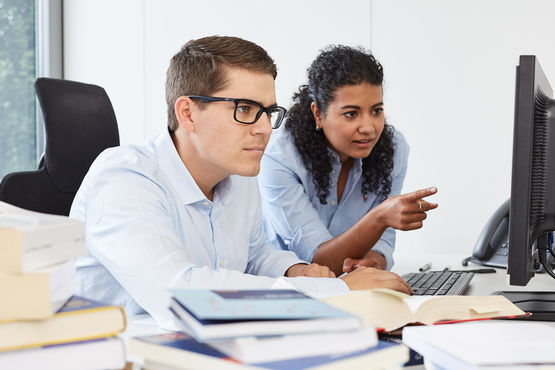 © Karin Fiedler / GEZE GmbH
To serve you even better and more comprehensively, we offer a variety of services, applications and portals for your added convenience and to open up new usage options.
Request access